Winstock is proud to introduce its newest contest in 2023. Scattered throughout the Winstock grounds will be four Selfie Stations. Your goal is to take a selfie at each station between Friday, June 16 at 9 a.m. and Saturday, June 17 at 9 p.m. Once you have completed getting a photo at each station, post all 4 photos on your Facebook, Twitter, or Instagram account using the Hashtag #WinstockSelfie23. The stations will be easily accessible to all fans attending Winstock Country Music Festival. 
Where to find the Selfie Stations: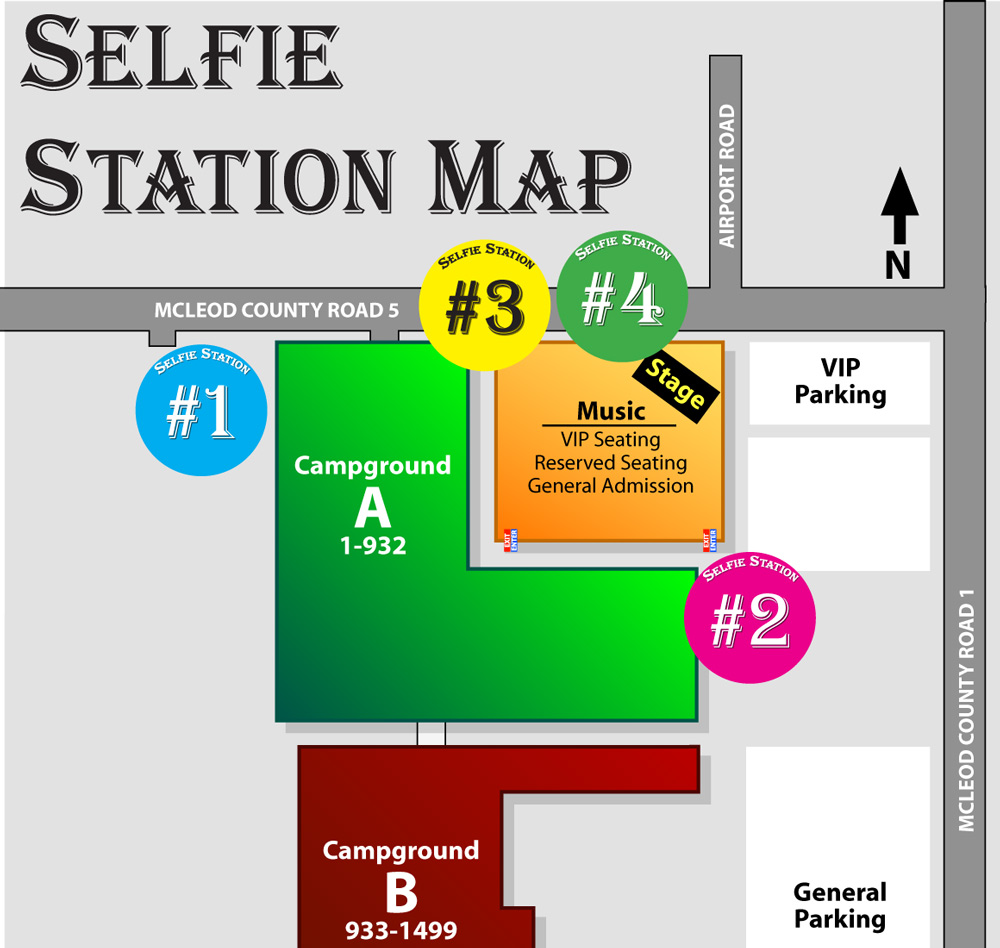 #1 – In 2019 Winstock organizers added a gravel walking path between campgrounds A and C. Head to the start of the path and take a pic to see how far we've come! Find the first selfie station on the walking path between A and C. Head here first before the gates open.       
#2 – For more than 29 years, volunteers have helped make Winstock a huge success. Check in is a must, so head that way and don't let it be a bust. Find the second Selfie Station by Gate 4 near our volunteer check-in. Put the concert area behind you for a picture-perfect scene, and as you make the trek to the rest of the stations, thank our volunteers on the way! 
#3 – Although I may not be the biggest beer tent at Winstock, I am where many go to quench their thirst. Pay a visit to our Craft Beer tent where you will find Selfie Station 3.
#4 – In general you must go, although you don't need to look too high or too low, Selfie Station 4 is great for a first-timer at Winstock wanting to pick up a quick souvenir. Find Selfie Station 4 at the Winstock Souvenir stand and be sure to show off your new swag! *Purchase not required for contest participation. 
NOTE: Selfie Stations ARE NOT located Backstage, in VIP/ Reserved Seating, or on Private Property surrounding the Winstock Festival Grounds. When you are ready to post your photos, your post MUST have the hashtag and 4 separate photos to be eligible for the grand prize. All posts meeting the eligibility criteria will be entered into the drawing and the winner will be chosen at random Monday, June 18 at noon and announced on Winstock's official social media platforms. The winning post will receive a pair of Reserved Seats and a $25 food and beverage voucher for Winstock 2024! 
Rules
-The winner will receive a pair of Reserved Seats and a $25 food and beverage voucher to Winstock '24
-Selfie Station signs must be clearly visible in each photo. 
-Posts must have the hashtag #WinstockSelfie23 in order to be considered for the grand prize. 
-No inappropriate clothing.
-All four photos must have the same person(s) in them.
-All 4 photos must be posted in the same post at the same time. No separate posts. If your post doesn't have 4 photos, your entry will be disqualified.
-Only 1 prize will be awarded. If the winner of the prize chooses to share their prize, that will be between them and any other parties involved.
Disclaimers: Winstock reserves the right to discontinue the contest at any time if property is damaged. Winstock will never ask you to click a link or request credit card information when doing a promotional contest. We will always announce winners on our official social media platforms at a designated date and time. We will never contact you directly or ask you to provide a credit card. If a fake account attempts to contact you, contact Winstock Country Music Festival ASAP by sending a message on social media.