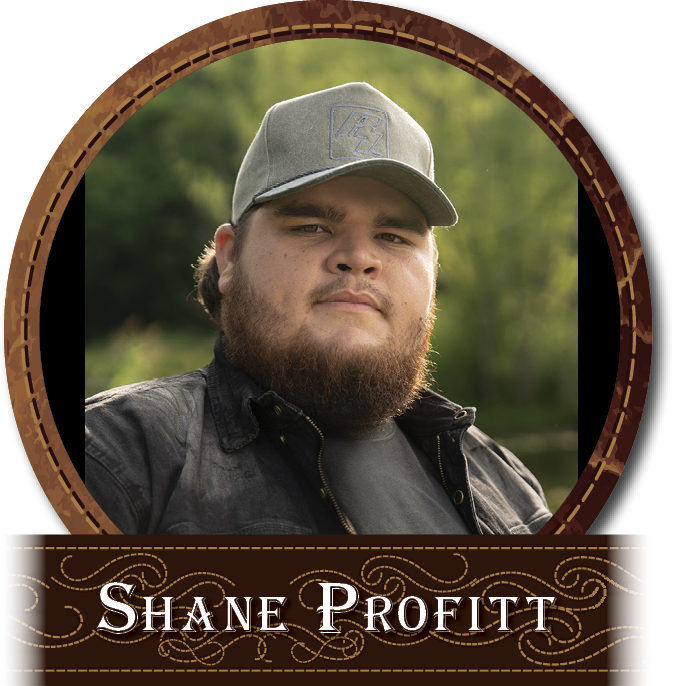 West Stage
Friday, June 16, 2023
BIO
A salt of the earth Southerner with a straight-shooting swagger and kind smile, Shane Profitt's musical toolbox is full of all-natural talent. At the end of 2021, he was still pulling overtime at his job with the city, busting his back about an hour south of Nashville and living for the weekend – with a few decades left to go. But now, the 22-year-old is rocking sold-out crowds at the historic Ryman Auditorium, touring with his chart-topping hero Chris Janson and writing modern country tunes so genuine, they slip on like a pair of broken-in work boots.
Profitt's journey starts a few years ago, when his grandad asked what he wanted for Christmas and his wish was to learn how to play Hank Jr. songs on the guitar. Beginning with G, C and D chords, he stuck with it. Gifted with a heavy-duty vocal, Profitt became a regular draw at the popular Southern-cooking chain, Puckett's, traveling all over Tennessee to weekend shows while still holding down his job back home. And while that made for some long hours, it also led to inspiration for original music.
Today, the emerging artist debuts his boots-on-the-ground writing style and big, barrel-chested voice with a three-song collection MAURY COUNTY LINE, available now via BMLG Records/Harpeth 60 Records. With tracks like the hook filled honky tonker "Better Off Fishin'," chest-thumping charmer "Guys Like Me," and his hopeful heaven-on-earth debut country radio single "How It Oughta Be," Profitt puts his life to music – along with the lives of so many others. And this is just the beginning.
HIT SONGS
"Country Boys"
"How It Oughta Be"
"Guys Like Me"
"Better Off Fishin'"