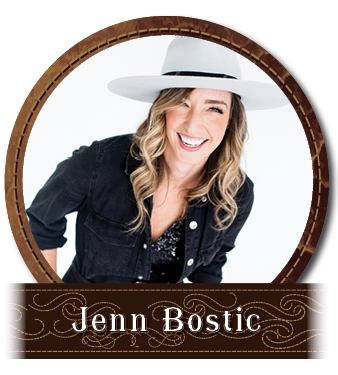 Main Stage
Saturday, June 17, 2023
BIO
Jenn Bostic is a soulful singer/songwriter with a hint of pop, blues, and gospel. Her emotive songwriting and powerful vocals have been touching hearts around the world. She has had a year of accolades, including having the United States Army Band cover her UK number-one song, "Jealous of the Angels," which was also played on Sirius XMs The Pulse and other mainstream ACs reaching that format's Top 40, and the Positive Country and Southern Gospel Charts Top 10.
Bostic has performed sold out tours across the United States and Europe, including performances on the stages of the Grand Ole Opry, The Ryman Auditorium, and Lincoln Center, as well as BBC Breakfast Television, BBC Songs of Praise, Daystar, and TBN US and UK. As an independent, Bostic was the first international artist to have her first three singles playlisted on BBC Radio 2. She was twice named "International Touring Artist of the Year," by the British Country Music Association (2017/2018).
In 2012, Waconia native Bostic received 5 Independent Country Music Association Awards including, "Best Songwriter," "Best Musician," and "Overall Winner."
Her newest album, "You Find a Way," created with Grammy nominated producer and hit songwriter, Lauren Christy, was released in the summer of 2022.
HIT SONGS
"Jealous of the Angels"