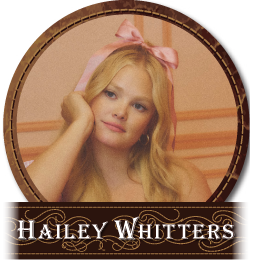 West Stage
Saturday, June 17, 2023
BIO
The idea of "home" courses throughout country music. But few songwriters can place you in the center of the town square, on a stool at the corner bar, or in a chair at the kitchen table quite like Hailey Whitters.
On her 2020 breakthrough album "The Dream," the singer-songwriter wrote about escaping her hometown of Shueyville, Iowa, to pursue stardom in Nashville. It was a fantasy record at first, full of far-off plans, hopes, and dreams. But it soon became Hailey's reality — she signed a label deal with Big Loud/Songs & Daughters, went on tour with Luke Combs and Midland, and made her first of many appearances on the Grand Ole Opry.
"The Dream" and its deluxe reissue "Living the Dream" earned critical acclaim from The Washington Post, Rolling Stone, Garden & Gun, and Stereogum, and Hailey racked up 75 million global artist streams. She also became a Grammy-nominated songwriter for "A Beautiful Noise," her collaboration with Brandi Carlile, Alicia Keys, and Brandy Clark.
In the midst of that whirlwind, Hailey found herself reconnecting with her Midwestern roots. Shueyville was always in the back of her mind and the memories she made there — getting her first kiss; partying in the cornfields; gathering for Sunday supper — started to shape her writing. Over the past two years, she channeled those memories into her new album, "Raised." Released via Songs & Daughters and Hailey's own Pigasus Records, Raised is the sound of Hailey Whitters going home.
"It's been 14 years since I've lived in Iowa, but more and more I've been going back there mentally and being pulled to the people and the places that raised me," she says. "With 'The Dream,' I was starting to turn that corner back home, but this record went straight there. If 'The Dream' were my wings, then 'Raised' is my roots." The result is an LP that is rich in folksy turns of phrase, sharp yet inventive in its musicianship, and teeming with unvarnished honesty.
"Raised is a celebration of the Midwest, but I think it's a common story no matter where you're from," Hailey says. "My experience growing up in the middle of the country is very relatable to a lot of people. We've all lived in a similar way — the only thing that's different is the scenery."
HIT SONGS
"Everything She Ain't"