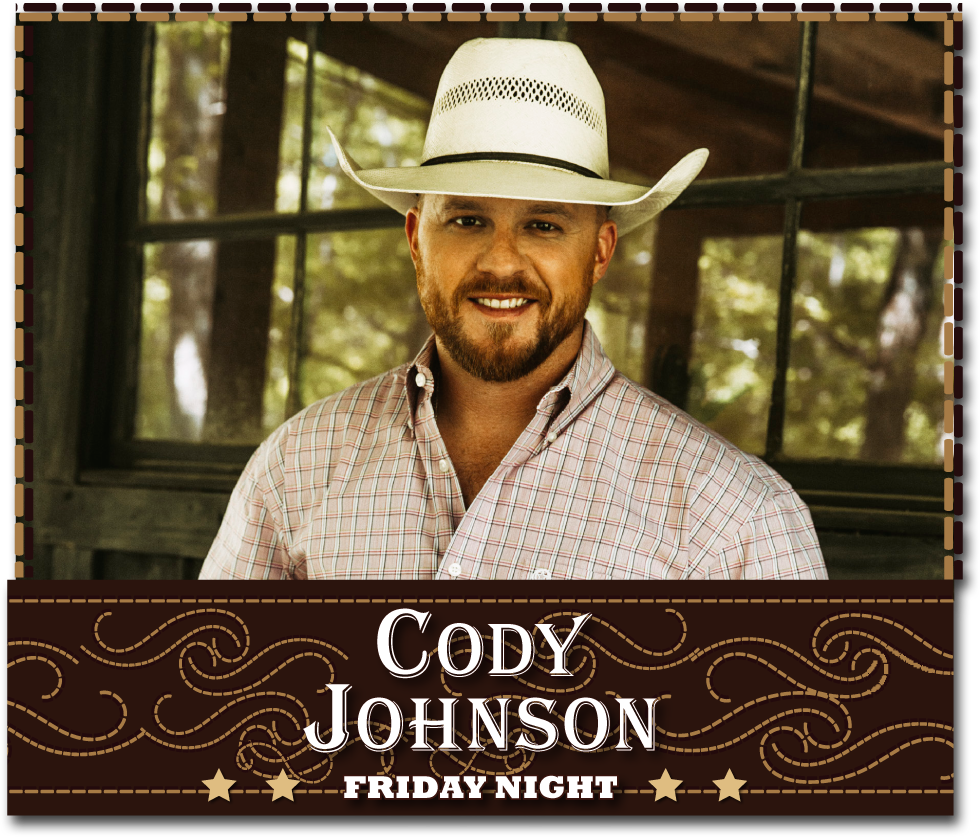 Main Stage
Friday, June 16, 2023
BIO
It might be daunting to launch a massive endeavor like a double album, but not for country superstar Cody Johnson, an artist MusicRow predicts "just might be the future of real country music." For him, it was quite the opposite. "I literally felt like I was just window shopping. Like I was a millionaire in a diamond shop. I was like, 'I want that one. I want that one, I want that one,'" he said. "And then when we added all those songs up, we had 18 that we knew we had to record."
The brand new 18-track double album Human, which debuted at the top of the country albums chart the week of its release, is stacked top to bottom with songs that Johnson considers ones that were originally dubbed too country for country. When the songwriters told Johnson and his team that the tunes, they'd penned were being rejected by other Nashville artists, he said, "Bring those to me."
"It's so hard to watch the fight to get the cowboy back on the radio. Because that's who I am and the lifestyle I live. And I can't sacrifice my integrity for who I am. I'm just kind of just being myself," Johnson said, having established a following of loyal fans by doing just that. Known as CoJo Nation, they regularly sell out shows across the country and have helped him earn multiple ACM and CMA Awards nominations as well as numerous RIAA platinum and gold singles and album certifications that now tally 14. In fact, those fans increased Johnson's worldwide streams by nearly One Billion in 2021, growing from Two Billion to over 3.7 Billion streams, averaging 35 million streams per week.
And he's won the fight as "'Til You Can't" landed as his first number one radio single taking the top spot on both the Billboard Country Airplay and Mediabase charts and is a RIAA Platinum and gold certified single. To date, "'Til You Can't" has logged more than 330 million global streams and counting since its release with nearly 2 million US track equivalents to date. Cody performed the song on The Tonight Show Starring Jimmy Fallon, The Kelly Clarkson Show & CMT Awards where it was nominated for two awards, winning Male Video of The Year.
At the close of 2021, Human received tremendous media praise making 'best-of' year-end lists, and followed his first major-label release, Ain't Nothin' to It, which skyrocketed to No. 1 on both the Billboard Top Country Albums and All-Genre Digital Sales charts, also reaching Top 10 on the all-genre Billboard 200 chart. It also made history as the third-highest pre-added album of all time in the country music genre on Apple Music at the time of release and has since been certified Gold.
When he began working on his second CoJo Music/Warner Music Nashville project, Johnson had enough undeniably country songs in his arsenal to make not one but two albums. Instead of trying to pare down the selection, he decided to record all of them and go old-school with a double album. The concept of two albums — each with a side A and a side B – added up to Human. And what that meant for Johnson is a listening experience that should feel like you're at one of his unprecedented live shows.
"What I did was put the songs together in sequential order as if it was a set list, and I was going to play you this album live," he said. "If there's a theme to this project, it's that the album is a set list."
The title also reflects how Johnson feels about releasing an album that he calls the most vulnerable one he's ever recorded. Not all of the 18 country songs on Human are brand new. Johnson has covers of classics from Vince Gill ("Son of a Ramblin' Man") and Conway Twitty ("I Don't Know a Thing About Love"). Johnson also recruited country music icon Willie Nelson to join him for a new version of Nelson's honest and witty "Sad Songs and Waltzes" from 1973.
After an hour of non-stop cowboy country music — backed by the welcome sounds of pedal steel guitar, fiddle, piano and his distinctive vocals — what Johnson hopes are that his fans will feel like they know him a little bit better.
"I love the fact that when you listen to this album, you're gonna hear all the facets that are me, personally and musically," Johnson said. "Whether it's something bluegrass, something a little bit rock, something gospel, or something a little bit more Texas. When people listen to Human, they are going to hear a lot more of me being me, because I am finally comfortable with myself and able to share that with my fans."
Johnson also released his first-ever Christmas album, A Cody Johnson Christmas. The ten-song project, which includes many of Johnson's holiday favorites, also features two new original songs penned by producer Trent Willmon. Johnson and Willmon also created newly imagined arrangements for the beloved Christmas carols "Away In A Manger" and "Silent Night."
HIT SONGS
"Human"
"By Your Grace"
"'Til You Can't"
"Dear Rodeo" (featuring Reba McEntire)
"Nothin' on You"
"On My Way to You"
"Wild as You"
"With You I Am"
"Dance Her Home"