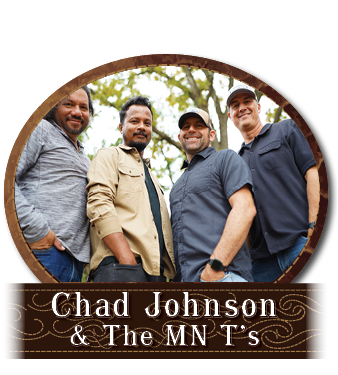 Pre-show beer tent party
Saturday, June 17, 2023
BIO
Chad Johnson & The Minnesota Transplants (MN-T's) are one of the most entertaining and talented bands in the Midwest, offering a signature blend of Americana and country-rock crossroads covers and original music. With their onstage chemistry, and ability to connect with and entertain audiences, it's no wonder they've built a dedicated following in the Midwest, and beyond.
A longtime singer, songwriter, musician and recording artist, Chad Johnson is a seasoned professional, and is the native Minnesotan in the group. The Minnesota Transplants (MN-T's) include international touring musician, studio engineer, and lead guitarist, Jeenti Dutta, who hails from India. Drummer Andy Jaynes, formerly of the 8th Street Band, comes from Colorado. Bassist Makai (Kai) Catudio, formerly of The Jason Paulson Band, is from the island of Hawaii. In the spirit of this, The Minnesota Transplants came to be. For short, they are the MN-T's.
The band has shared the stage with Clint Black, Collin Raye, Craig Morgan, Jon Langston, Joe Nichols, The Gear Daddies, 32 Below, Allison Scott, Mark Joseph (of Big Wu), Communists Daughter, The Jason Paulson Band, and White Iron Band, among many others. They've played many festivals, most notably breaking crowd records at the Defeat of Jesse James Days festival for four consecutive years.
The band is frequently featured on Midwest Country Music Organization's weekly show, syndicated on over 20 stations throughout the Midwest. Chad and the band have six times received the SouthernMinn Scene Best Of award.
Six albums have been released to date. Northfield to Nashville (2015), recorded with producer Gary Sadler (Magenta Records/Red Ridge Entertainment), included stand-out track, Fire and Steel. Chad toured Europe following the release of the album, which included a performance at the Grand Ole Opry in Scotland. What We've Become (2018), recorded at the Purple House Studio with Grammy Award winning engineer, Casey Wasner, was released at the iconic First Avenue Main Stage and featured, Minnesota Nice, the official song of Defeat of Jesse James Days. In 2020 Chad Johnson and The MN-T's recorded four singles at the Purple House, joined in the studio by producer Mark Joseph, and Nicholas David (The Voice). In 2021 the band recorded four more singles at Summit Stream Studio (Jeenti Dutta), and a seventh album is in the works for release in 2022.